This blog talks about Medical Devices Classification in the UK. A Medical device is any instrument, apparatus, appliance, software, implant, reagent, material or other article intended by the manufacturer to be used, alone or in combination, for human beings.
A full definition can be found in the medical device regulations 2002 (as amended).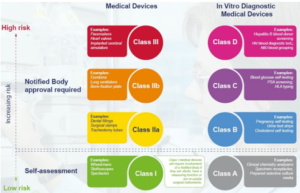 • In the United Kingdom (UK), devices are classified into four classes, class I, Class IIa, Class IIb and Class III.
• Medical device classification is in accordance with the UK Medical Device Regulations 2002 and the
outcome is concluded by the purpose of the device and how long the device is intended to be used.
• Classification is based on the medical device risk level to the end user, as set out in Annex IX of the MDD 93/42/EEC (UK MDR 2002).
• Manufacturers need to demonstrate that their medical device meets the requirements of the regulations by carrying out a conformity assessment.
• The assessment route depends on the classification of the device.
• The risk class determines whether a conformity assessment would be required (which is done by a
Notified Body).
Difference between Medical Devices Classification UK
Class I Medical Devices
A class I medical device is the lowest risk of the classes meaning if somebody required a bandage on a cut, this would be a class I device as the medical device does not require attention from an approved body.
Examples of Class I Medical Devices
• Bandages / plasters
• Stethoscopes
• Wheelchairs
• Examination lights
• Medicine spoons
Class IIa Medical Devices
Class IIa are known as medium risk devices and a scenario of this would be a person who is hard of hearing may require a hearing aid and are considered more of a risk than class I Medical Devices.
Examples of Class IIa Medical Devices
• Hearing aids
• Surgical clamps
• Dental fillings
• Contact lenses
• TENS devices
Class IIb Medical Devices
Class IIb are known as complex medium risk devices and a scenario of a class IIb device being used would be somebody breaking a bone and having to have a diagnostic X-ray that will directly expose them to small amount of radiation.
Examples of class IIb Medical Devices
• Diagnostic X-ray
• Ventilators
• Bone-fixation plates
• Condoms
• Surgical lasers
Class III Medical Devices
Class III are known as the highest risk devices and a scenario of a class III device being used would be somebody who has suffered a heart attack may require a pacemaker that signals the heart to beat when the heartbeat is irregular or slowing down.
Examples of class III Medical Devices
• Pacemaker
• Heart Valves
• Breast Implants
• Joint Replacement System
• Contraceptive IUD's
• All devices placed on the Great Britain market must be registered with the MHRA and applies to all device classes.
Conclusion
We hope this blog was useful for helping you understand the difference between a class 1 medical device and class 2/class 3 devices. Do you want to learn more about device classifications in the EU and United States of America? Why not check out our other two blogs below. Additionally, you can check out Patient Guard's Quality Services here and Regulatory Services here, that will assist you in getting your medical devices to market in the UK and EU.
EU Classifications blog